Textbooks, often the place of serious academic knowledge, occasionally surprise readers with unexpected moments of humor. These gems can be found in the most unlikely places, from amusing historical anecdotes to quirky illustrations. Some textbooks feature unintentional humor, like typos or outdated information that has become comically inaccurate over time. Others intentionally infuse wit into their content, using clever puns or playful examples to engage students. Whether it's a physics textbook with a humorous cartoon illustrating the laws of motion or a history book sharing a lighthearted anecdote about an eccentric historical figure, these moments of levity remind us that even in the pursuit of knowledge, laughter can be an unexpected and delightful companion. Here is a list of some of the funniest things that people have found in textbooks.
1. Found In My Web Design Textbook
2. A Woman Saying "Hello" In French To A Couple In A Bush
3. Found This On The First Page Of My Stats Textbook.
4. Found Something Odd In My Engineering Textbook
5. I Better Learn This Just In Case
6. Found This Gem In A High School Sex Ed Textbook
7. So In My Spanish Textbook This Kid Calls A Girl To Ask Her What Her Phone Number Is.
8. My Friend's French Textbook Tried To Explain Colours, Forgetting That It Was In Black And White.
9. Invisible Man.
10. Tiger Has Seen Some Terrible Things In Prison.
11. So I Was Reading My Chemistry Textbook.
12. This Was In My Friends Biology Textbook.
13. Uhm, Best Textbook Picture Ever?
14. Textbook Level: Chernobyl
15. Hidden Gem In The Back Of The Textbook
16. My Economics Textbook Is Somewhat Pessimistic.
17. That's An Interesting Question, Math Textbook
18. Word 'Trouble' In A Racist German Dictionary
19. Well Played, Biology Textbook. I See What You Did There.
20. This Color Blindness Test In A Textbook
21.
22.
23.
24. Expensive Textbook Using Watermarked Istock Photos.
25. Egypt in South America
26.
27. So inspiring
28. How ironic
29.
30.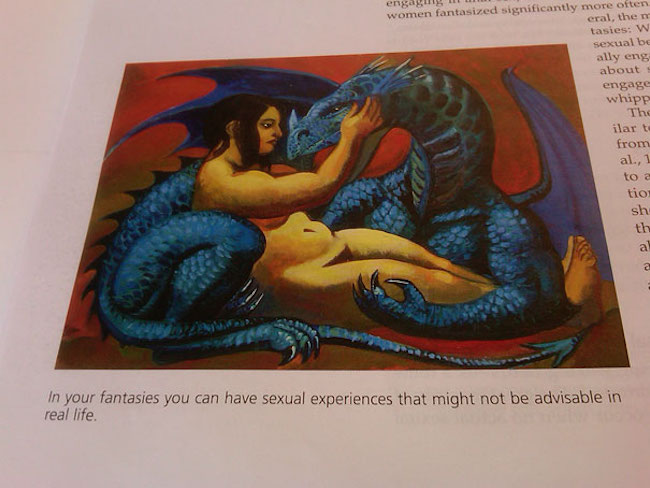 You've reached the end of the article. Please share it if you think it deserves.