Hostinger, a leading website building and hosting company, wants to help you build a website your dream audience wants to visit. So, They have identified and mapped the most visited website in every country around the world. The team excluded dominant global websites (Google, Facebook, and YouTube) and search engines (Yahoo, Baidu, DuckDuckGo, Naver, and Yandex) to level the playing field and discount middle-man visits. They also didn't consider adult, betting, illegal downloading/streaming services, and malicious sites and removed the data entries if: (1) any data value was missing, (2) the Main Traffic Source was Social, Referral, or Paid, (3) year on Year and Month on Month figures were unrealistic (both over 200%, or YoY over 400%).
---
1. Africa
2. The Middle East and Central Asia
The key finding are: (1) Wikipedia is the most visited website in 43 countries, more than any other site. (2) Amazon is the top website in the U.S. and three other countries by visitor count. (3) The most visited website in the UK is bbc.co.uk. (4) he BBC is the most visited news website in most countries (12).
---
3. South America
4. Europe
Wikipedia is the most visited website in 15 out of 38 European countries. Wikipedia has become a go-to source of knowledge for many, and as the world's largest online encyclopedia, it has expanded its reach by offering foreign-language portals and translations. In the 15 years since its inception, Pew Research Center has reported that the most frequently accessed English-language pages on Wikipedia pertain to current events and movies, while Spanish-language users typically seek out articles on sports and history. This highlights the diversity of interests among people in Europe and the usefulness of Wikipedia in providing information on various topics.
---
5. North America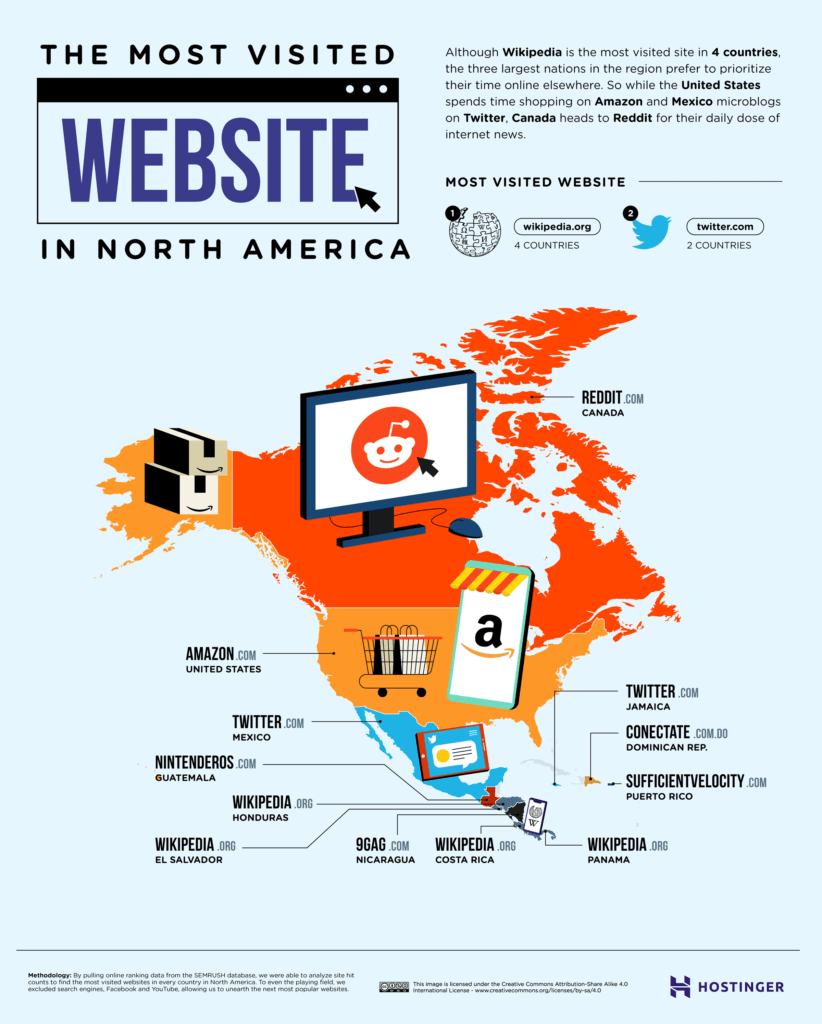 Although Wikipedia and Twitter are the most popular websites across North America, a significant number of countries in the region show a preference for forums and fandoms. For instance, Reddit is the most visited forum-style website in Canada, while Nintenderos, a Nintendo news site, is the most popular in Guatemala. Additionally, Sufficient Velocity, a forum dedicated to fantasy fiction and gaming, receives 4.97 million annual visits from Puerto Rico. These examples show that people in North America have varied interests and that online communities provide an excellent platform for connecting with like-minded individuals and sharing knowledge and information.
---
6. Asia and Oceania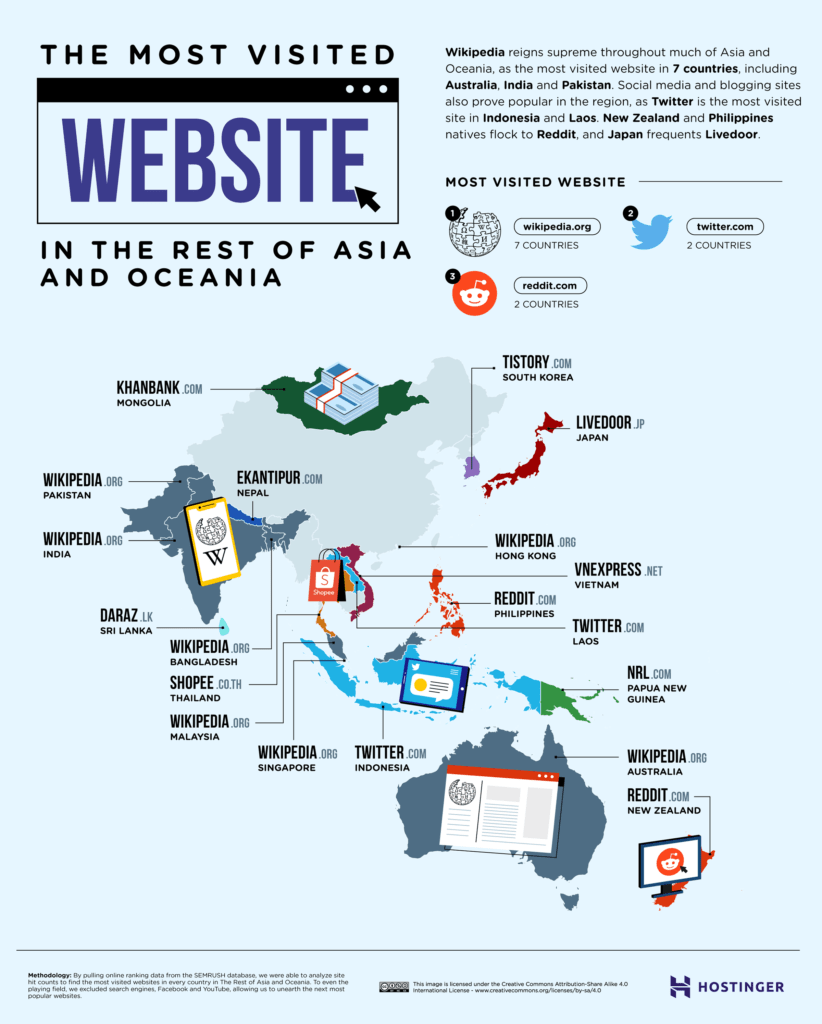 ---
7. World
---
You've reached the end of the article. Please share it if you think it's interesting.